Four years ago, Jared Munch jumped on a stand-up paddleboard and paddled his way around Lake Superior, covering 1,350 miles over 49 days.
Munch, who is formerly from New Auburn, swore he'd never do something like that again, but the thrill of a challenge and another adventure was too strong. This month, he is jumping back on his paddleboard and heading north to James Bay, which is the southernmost part of the Arctic Ocean in Canada.
From Duluth, Minn., Munch will paddle nearly 500 miles around a third of Lake Superior, head 60 miles upstream on the Michipicoten River, portage the continental divide between the Great Lakes and the Arctic Ocean, and paddle 370 miles down the Missinaibi and Moose rivers to James Bay. In total, he will cover 920 miles, with half of it being in remote Canadian wilderness.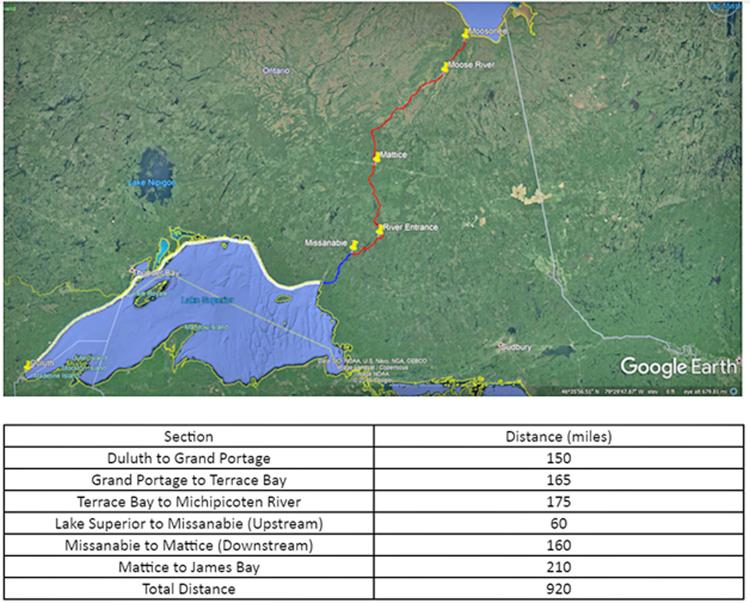 Munch said the idea came to him when he was working at a bike, kayak and paddling shop in Duluth a few years ago. An older couple came in and dropped off a guide book of Canadian river trips. They had done some and wanted to pass the book on so someone could finish the trips for them.
On his trip, Munch said there are easy class 1 rapids, all the way up to difficult class 5 rapids. They can be dangerous for the untrained stand-up paddleboarder, but he is one of six people in the world to have the highest rating for whitewater paddleboarding.
"I can go down class 3 [rapids], and it's a lot of fun," Munch said, but most of the class 3–5 rapids he will portage—or walk around—instead of trying to paddle them. He will portage twice; first carrying his board, then his gear.
Joining him for the downstream trip on the Missinaibi and Moose rivers will be his father, Bill Munch, a teacher at Chetek-Weyerhaeuser High School.
Bill will paddle in a solo canoe, or a tandem canoe if a friend joins them for the trip.
"It will be a fun thing for us to do," Jared said.
Jared said he will be carrying all his own gear, to prove you can do the trip with just a paddleboard. His camping gear weighs a mere 35 pounds. Keeping it light means his board is more nimble on the rivers, which is important when going over rapids.
He is having some food supplies mailed ahead to places around Lake Superior hopes to mail supplies ahead to places in Canada.
"I'm a lot better of a paddler now than I was summers ago," Munch said of his first trip around Lake Superior. He will be using a fast, light racing paddleboard on Lake Superior, then using an inflatable paddleboard for the rivers. The inflatable board is more durable and will stand up to running into rocks.
The river is harder than lakes, even though the lakes are more exposed to the elements. The rivers are always flowing, he noted.
Along the way, Jared will be posting updates to his Facebook page, "Jared Munch - SUPerior Adevntures," using a GPS device that can send texts.
He expects the trip to take about 30 to 40 days.
At the end of the trip, he and is father will take trains back to where they met up and then drive back to Duluth.
Jared was expecting to head out earlier this week, but while driving to New Auburn to deliver a canoe to his father, he was rear ended on Hwy. 53. His car was damaged, but he is okay, other than being a bit sore.
He plans to rest up and then leave Thursday, June 13, or Friday, June 14.
Like last time, Jared is doing this to raise money for Neighborhood Youth Services outdoor programing for kids in Duluth.
Jared plans to finish his thesis and his masters degree in Civil Engineering from University of Minnesota-Duluth, when he returns.