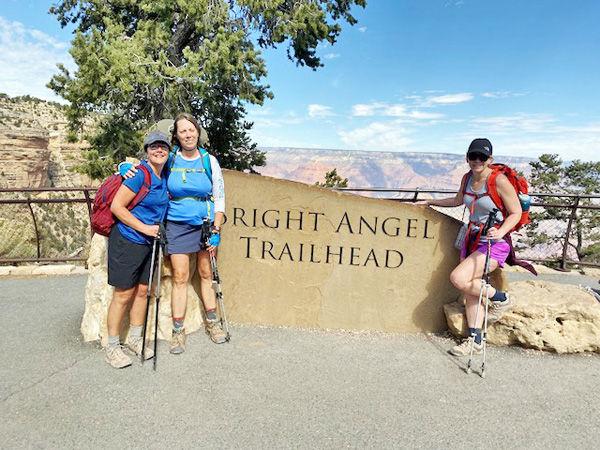 As a marathon runner for nearly 15 years now, I am always looking for ways to improve endurance and physically challenge my capabilities. So when my coworker and close friend, Peg Martin, of Rice Lake, invited me to join her in an adventure with another friend—Sheryl Putz, of Iowa—celebrating her retirement as a physical therapist, I was all in.  
Martin had gained eligibility through a draw to spend two nights at the historic Phantom Ranch at the bottom of the Grand Canyon on the Colorado River. Little did I know, I had just agreed to hike a trail descending 4,740 vertical feet over the course of 6.4 miles. The only way to get to the bottom is by foot or mule, and I trust my own two feet much more than a four-legged animal.
The three of us were dedicated to getting our legs ready for climbing.  Throughout the summer, I did most of my preparing by hiking up and down the steep hills on my grandparents' farm near Ridgeland wearing a backpack with approximately 20 pounds in it. My other cardio training involved hill repeats two times a week, in addition to my normal distance runs. My partners in this adventure frequented the Blue Hills area with trek poles and added hill repeats to their normal walking routines.
We arrived at the Grand Canyon on Saturday, Oct. 12, and decided to rent bikes at the National Park to see some of the sights from the rim. Standing overlooking the vastness and unable to see the bottom, it was hard to really grasp where we would be hiking in a couple of days. We were warned to be aware of possible elk and mule deer in this area that were in rut. We did see two female elk along the road—one was wearing a collar. 
Peg, Sheryl and I rode 18 miles to a landmark called Hopi Point the first day, hoping to acclimate to the altitude change and get a better view of the vastness we were about to descend.  We had arranged for a mule to take some of our personal items and clothing to the bottom the next day. This would allow us to keep our water and food in our daypacks, hopefully without too much weight.
We chose to do our own day hike Oct. 13 on a shorter trail just to see what we were up against.  Quite honestly, it was a rude awakening. 
We chose the Grandview Trail on the south rim. The narrow trail, uneven rocky and slippery terrain had me second-guessing my decision within a quarter-mile. I experienced some feelings of dizziness rounding the switchbacks as I looked down into the canyon. Our trekking poles were certainly helpful for additional stability, but one thing we quickly recognized was how much longer a canyon mile was compared to a road mile.  We had done this hike at high noon and it was in the mid-70s. Our heart rates were up and we were certainly working up a sweat, seeming to be moving not much faster than turtles. 
That night I didn't sleep a wink. Several times I imagined my fear taking over and inability to continue on the trail. In fact, at first light, I told my friends I had a dream I turned around on the trail, slept in the rental car and waited for them for three days because I let fear take over.
The visitor center equipped us with an old-fashioned map and educated us well on the importance of hydration. Sadly a woman had died of dehydration just three short weeks prior to our journey on the very trail we were taking down. We had planned to each carry a gallon of water, plus salt and electrolyte tabs, along with copious amounts of trail mix and fresh fruit. There was no water available on the South Kaibab trail we planned to hike.
On Tuesday, Oct. 15, we jumped on a short bus trip with other hikers from our resort at the Yavapai Lodge and planned to be at the trail head of the South Kaibab Trail as soon as the sun started to rise. Our goal was to be at the bottom of the canyon before noon. Although the rim was 35 degrees when we started, we knew typical temps at the bottom would be near 90 degrees that day.  
The trail immediately takes you through tight switchbacks leading to Cedar Ridge. The first mile, it was hard to fathom just how far we had to go. We wanted to take pictures around every corner. The sun was beginning to rise and we were seeing expansive views of the gorge below. At one of our stops to use a primitive outhouse along the trail, we were grateful there was another group of hikers waiting to warn us of a rattlesnake curled up tight in the corner under the stairway. 
By the time we were at the halfway mark of Skeleton Point, we realized just how hard our legs were working. We hiked through another tight circuit of steep switchbacks through beautiful, orange-red shale and limestone. It's deceiving at this point because you have your first views of the Colorado River and the suspension bridge leading to Phantom Ranch. The river was still 1,200 feet below and the terrain is purely vertical. We would hike approximately 45 minutes, take a few drinks of water and fuel with trail mix, continuing along within a couple of minutes to avoid our muscles locking up. On our journey down, we continued to meet others along the way including a really inspiring woman in her mid-70s who was hiking to the bottom alone. She laughed at our concern and invitation to join us. She confidently let us know she would make it to Phantom Ranch too, but maybe awhile behind us.
At this point, we began to run into people ascending the trail from the bottom and recognizing the look of fatigue, I was beginning to wonder if hiking out was the only option.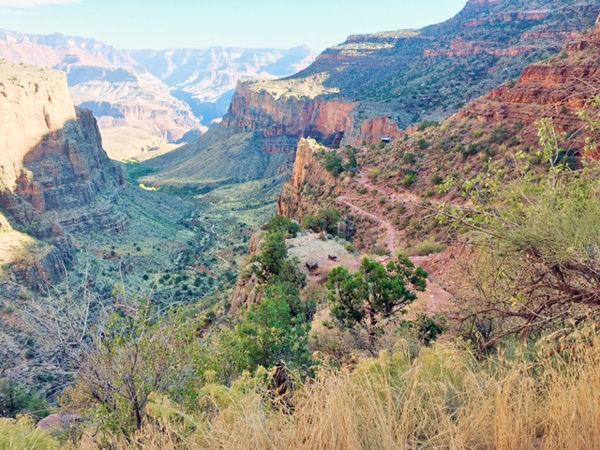 It took us approximately five hours to reach Phantom Ranch. Our very primitive bunkhouse was waiting, along with a glass of their famous lemonade.  We had arranged ahead of time for a steak dinner. The menu is quite basic since all the food is transported down by mules. There was a small campground there, men's and women's bunkhouses and a handful of small cabins. We certainly appreciated one of the best views of the canyon, in fact, is after dark. There was a full moon that evening and with the stars above us, it felt like a dream.
We slept like babies that night and had a wake-up call at 4:30 a.m. for family-style breakfast at 5 a.m. where we sat with strangers from Alaska, Iowa, Philadelphia and Boston, each on their own personal journey.
That day, we decided to do our own adventure towards the North Rim of the canyon, traveling approximately four miles in one direction and back in an attempt to keep our legs limber.  The trails at the bottom of the canyon are relatively flat, approximately half the width of a sidewalk and wind around stunning creeks and corners.  
We chose to hike out of the canyon via the Bright Angel Trail. Although a longer distance, at 10 miles, we knew it would give us an even bigger advantage and ability to see more of the canyon. It's a historic trail the American Indians used to travel to Indian Gardens, where there are natural springs of water.  
We stood on the suspension bridge with the Colorado River rushing below us at 5:30 a.m. the morning of Oct. 17, under the full moon. We said a prayer, turned on our headlamps and began our journey out. None of us said much. We really had to completely focus on our footing. The trail is approximately the width of a sidewalk, narrowing in many places to just accommodate the width of two feet. The Colorado River was immediately to our right and we knew there was a possibility of wildlife on the trail in the dark. 
Everything we read ahead of time reiterates to plan twice as long to hike up as it did to hike down. We were covering nearly four more miles and expecting to be on our legs about 10 hours. There was a pure serenity about hiking by headlamps through the switchbacks for the first hour. We just kept talking to one another about obstacles in the path, the change of surface below us and focusing on our first water break at River Trail Junction. 
The terrain, color and landscape was constantly changing as the sun continued to rise. We were most surprised by the amount of willows and cottonwoods, various species of cacti and other plants able to tolerate the temps rising to 110 degrees.
Our goal was to reach the halfway point of Indian Gardens within five hours, but somehow we made it in two-and-a-half hours.
It was there we were able to fill up our water reservoirs and take a brief break. We all put vaseline between our toes, checked for blisters and continued to head up. Several times along the trail, we had to stop and wait for mule deer and their fawns to get off the trails. It was here we saw several runners on the trail who must've been staying at the campground at Indian Gardens. What an inspiration they were.
We tried not to let our excitement take over. Peg had warned us the last 2.5 miles up are the most grueling. We knew we were heading into the desert at midmorning and the sun was beginning to show itself. We would have to travel the switchbacks of Jacob's Ladder, an ascent through Redwall limestone with sheer cliffs below dividing forest and desert habitats. We all began to experience the change in temperature and altitude and agreed to hike three or four switchbacks at a time, recover a minute and continue on until we reached the top. 
Along this path, I again continued to experience feelings of vertigo. It was hard for us not to celebrate, but rather to stay mentally focused, literally taking it one step at a time until we reached the top. We were warned by hikers coming down there was a desert bighorn sheep lying within sight of the trail near a tunnel we would be traveling through. We had planned for a brief rest to see Mallery's Grotto, painted images from centuries ago by the Havasupai Indians. Our legs were quaking, we were short of breath but could see Kolb Studio, which is the trailhead. It was very tough to not let our emotions take over until we reached the top. We had made it in six hours and could not believe it.
Following a celebratory dinner at the historic El Tovar restaurant, we walked to the trailhead the next morning. Words or pictures cannot really explain the natural beauty, environment and wildlife the canyon offers from inside the gorge. I still am in awe of our achievement.  
The three of us are much closer after our journey.  Through dedication to training, teamwork and great communication, we never wavered from our plan. Several times we reflected on those who would just be grateful to be able to see the canyon from the top and were thankful for our ability to participate in this challenge. We all agreed the biggest limits are those we put on ourselves. Stepping out of our comfort zone is often frightening but with great encouragement, support and the power to believe anything is possible, the sky really is the limit.
Fun Facts about the Canyon  
• It is the 100-year anniversary of Grand Canyon National Park.
• Less than 1-percent of people who visit the canyon go all the way to the bottom.
• It is one of the seven natural wonders of the world.
• The colors of the canyon change by the hour, depending on how the sun is shining.
• In our time there, we biked 18 miles and hiked over 40 miles, with an elevation change of 5,000 feet from the top to the bottom and back out carrying approximately 30 pounds on our backs.
• Along the trail, we met hikers from all ages and walks of life, including middle school-aged kids hiking with parents and individuals hiking alone in their mid-70s.
• Mules get the right of way on the trail. Several times we had to back up along the rocks to allow mules to pass who were carrying supplies to Phantom Ranch.